Tips For Planning An Escort Date In St. Moritz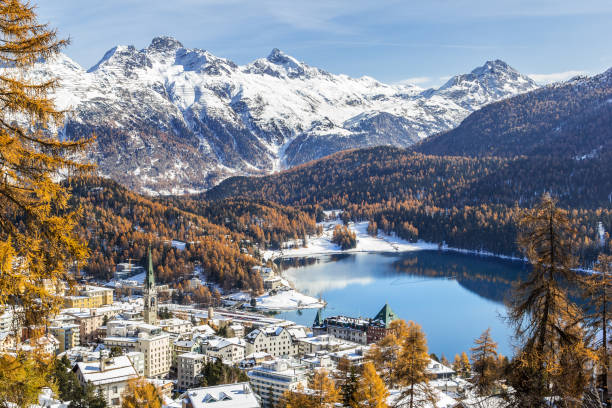 St. Moritz is a luxury alpine resort which offers the perfect getaway for anyone. With beautiful sights and stunning high-class St. Moritz escort models to match, here is everything you can expect to enjoy in the alpine resort town:
St. Moritz - extravagance and lifestyle in the Swiss mountains
The names of some places in the world just make you want to go back and feel like you are there forever – St. Moritz in the Swiss Engadin valley is one of them. Here Roger Moore swept down the slopes elegantly as James Bond. Brigitte Bardot and Gunter Sachs turtled legendarily in the snow flurry, Alfred Hitchcock was inspired by black birds – so there must be something magical that attracts so many celebrities to this small town and therefore at more than 1800 m. On the one hand, top athletes not only cavort here in winter, who hold their cricket or polo tournaments and horse races, but also numerous winter sports.
Speaking of top-class hotels, they tend to attract high-class guests from all corners of the globe. It all began with a daring bet made by Johannes Badrutt, a hotelier, in 1864. He promised his British guests that St. Moritz would be just as pleasant in winter as it was during summer, and even offered to pay for their stay if proven otherwise. Fortunately, the guests witnessed clear skies over St. Moritz and enjoyed the sunshine without their jackets. This led to the town becoming a hub for extravagant tourists. Indulge in the luxurious environment and let one of our elite escort models make your experience even more enchanting.
St. Moritz - shopping at an altitude of 1,800 m
You can expect a lot of glamour and luxury with your high-class escort lady – and with it a shopping tour in a class of its own. Of course, all the trendy designers are represented here – from Asprey and Bogner to Chanel and Dolce & Gabbana from Valentino to Van Cleefs & Arpels. Especially in winter, the shopping mile unfolds its very own charm, you experience a winter fairy tale and have an attractive and fashion-conscious luxury escort at your side. This not only promises a visual experience, but is the perfect environment for sensuality and eroticism.
Exclusive hotels with tradition - that is St. Moritz!
Of course, you have a choice in this famous place: the illustrious grand hotels are waiting for you – including the famous Badrutt's Palace Hotel St. Moritz, founded by Caspar Badrutt, which with its green roof and striking tower characterizes the silhouette of St. Moritz. The hotel pioneer opened his house back in 1896 – the hotel has lost nothing of its attractiveness until now, on the contrary. This is where illustrious guests from culture, politics and showbiz meet, who appreciate the comfortable atmosphere as well as the exclusive service. If you stay here with your high-class escort model, you can feast your way through the ten outstanding restaurants that are sure to leave nothing to be desired.
Of course, the Kulm Hotel St. Moritz, opened by Johannes Badrutt in 1855, should not go unmentioned because it was already setting its standards at that time: this house was not only the first grand hotel, but the first inn in this area, but the first lightbulb in Switzerland was also lit here – and that was a milestone. You will be impressed when you step into the magnificent entrance area with your VIP escort girl and step back into the Wilhelminian era: the high ceilings, the columns, and sofas and above all the chandeliers authentically transport you to the founding year. The Kulm Hotel has long been an institution and was not chosen by Gault-Millau Switzerland for nothing. By the way: This is precisely where Johannes Badrutt made his bet – a good reason to take a closer look at the house.
Because you can not only expect perfect service, but also modern luxury, such as in the award-winning spa of the Kulm Hotel St. Moritz: Here you can relax with your high-class escort lady, enjoy a comfortable view over the valley and let your soul dangle. This oasis of well-being is not only in a class of its own because of its size of 2,000 square meters – you will find everything you need for an unforgettable time with your premium escort model here.
Mountain air and haute cuisine - the perfect double
If you are looking to impress your exclusive escort girl, then why not take her to an award-winning top restaurant. You are spoiled for choice: from modern lounges to historical halls – here you can enjoy at the highest level in the truest sense of the word. But the traditional cuisine with raclette and fondue is also well represented in this luxury location. After feasting, take a little nightcap – and then dessert with your premium escort in the suite.
Nightlife in St. Moritz - also top class
Of course, high society also wants to have fun at night in style – and best of all in the legendary Dracula Club, which Gunter Sachs once founded. But the grand hotels also have luxurious bars and clubs, such as the Badrutt's Palace Hotel with its King's Social House or the Kulm Hotel St. Moritz with the Sunny Bar by Claudia Canessa. Your VIP escort lady will be happy to show you the location that suits your mood: get moving to hot rhythms or get closer to each other over a sophisticated cocktail – everything is possible here.